FOR IMMEDIATE RELEASE
Contact: Blake Hill
blake@byblakehill.com
WESTFALIA
By Blake Hill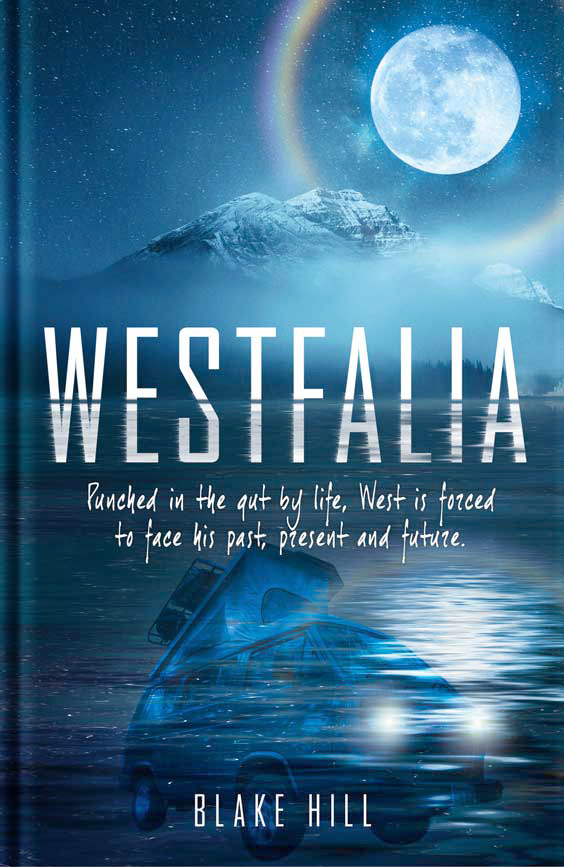 Often the most painful life experiences can end up being the most life-changing. In Blake Hill's recent spiritual adventure book, Westfalia: Punched in the gut by life, West is forced to face his past, present and future [Bolt Press, May 22, 2021], protagonist West has his world turned upside down when his twenty-year marriage is ended abruptly, with no explanation, and he is forced to grow beyond who he used to be through the power of self-reflection. After over a year of mourning the loss of his family and retreating inwardly, West begins having vivid dreams of an eccentric character called Charlie who guides him through his emotional turmoil and healing. Alongside Charlie, West embarks on a series of incredible experiences to counter-act his trauma, from motorcycles to surfing, wing suit flying, snowboarding, cycling, and exploring the mysteries of caves and mountains. Westfalia takes readers through a labyrinth of adventure that asks West to face anger, fear, denial, courage and more.
An adrenaline junkie himself, Hill is an avid motorcyclist, pilot, world-traveler, surfer, and more. After a setback from experiencing a stroke, Hill's vision of life began to expand even more, he was dead set to live life to the fullest. His background as a screenplay writer gives Westfalia a cinematic feel, with sweeping descriptions and fantastic scenes.
Engaging and epic, Westfalia combines action and adventure with a narrative of healing and growing despite tragedy. Hill is available for interviews, Q&A's and byline articles around Westfalia to discuss/write on topics including but not limited to:
Transferring physical experiences into writing
Using writing as a tool to heal from trauma
Dream writing – how to let go of reality and create something new
Living in the moment and chasing one's passion
---
Blake Hill is often thought of as a quiet person. Although quiet on the surface, his brain and body are always engaged, bouncing from thought to thought and one adventure to the next. He has spent countless hours flying on airplanes and traveling the world with his pro-surfer son. They have chased waves from California to Europe, Mexico, Indonesia, Japan, Australia and countless other destinations. He has also been riding motorcycles since he could walk, racing motocross, hare n' hounds, and spending days riding across the Mojave Desert and camping under the stars. His rides across the USA have taken him through blizzards, tornadoes, and across the Arctic circle.
As for his professional life, Blake began working in the movie business doing lighting for movies and TV shows. Over the years, he amassed a collection of ten screenplays and a children's book along with having his poetry published many times.
His passion for life was dimmed one day when he encountered a stroke. This experience was beyond humbling and fueled his passion for living even more. He is extremely grateful to be where he is today on a physical, emotional and spiritual level. He works out with free weights, resistance bands, hikes with his dogs and tries to surf every day. He believes that keeping active mentally and physically is the key to happiness. He's 55 years old and with each and every wave he surfs, he strives to ride the next one better than the last. He truly feels blessed for his amazing life.
Westfalia was released nationwide on May 22, 2021 and can be purchased from various retailers, including Amazon.
For further information, please visit www.byblakehill.com.
REVIEW COPIES AVAILABLE UPON REQUEST